Social Media Strategies Part 1: Posting
There are many misconceptions about social media and how to utilize it effectively for your company. Several factors go into building a successful social media page, such as creating eye-catching content, engaging with your followers, and the focal point of this blog, posting consistently and strategically. A constant stream of engaging content shared with your followers across all platforms is critical to growing your following and strengthening your business' presence. This blog explains common misconceptions surrounding posting and provides advice on what to post and how often to post on different platforms.
Consistent Posting
Consistent posting should be a top priority for all organizations on social media. While some companies don't think having an active social presence is necessary, doing so will help followers stay up to date on everything happening within the organization. It also reassures users that they can direct message (DM) the company and will hear back. If a page is stale and inactive, it won't grow, and it reduces the potential for new customers to easily find your business on social media platforms. According to Sprout Social, 55% of people find new companies via social media. This is another perfect example of why organizations need to be active on social media.
How Often to Post
Another commonly debated topic is the right posting frequency. Some think you need to post several times a day, while others believe you can post a few times a month. The true answer is – it all depends on the specific platform and which industry your company is in. Restaurants, for example, may want to post more frequently to share their menu items; however, a financial advising company may not have enough content to post daily. Each platform has a different algorithm, so while some, like TikTok and Twitter, prefer more frequent postings, LinkedIn and Instagram's algorithms don't favor their users posting several times a day. Sprout Social provides a fantastic breakdown of posting cadences for each platform.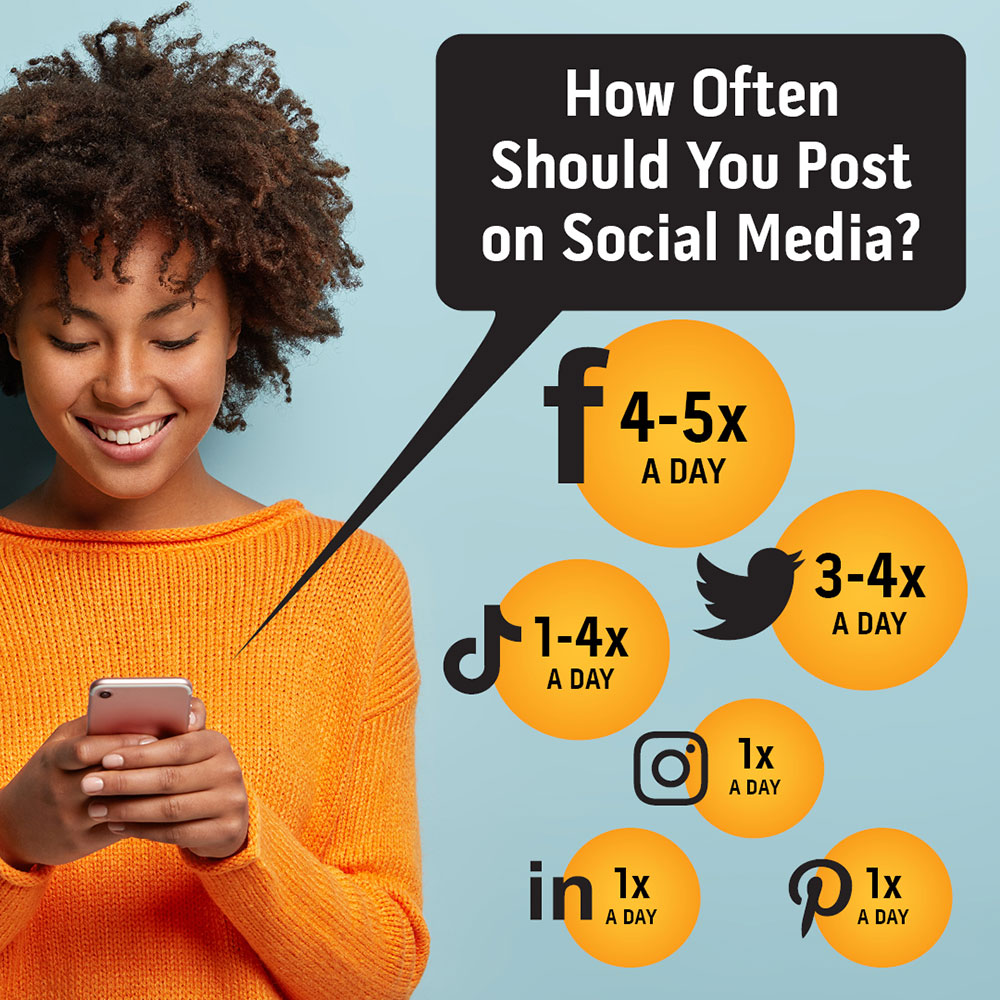 Where to Post
Not all businesses need to be – or should be – on every social media platform. If your organization is in the banking industry, platforms like Pinterest or YouTube won't make much sense. In fact, you would be wasting time and resources trying to create content for those platforms. Even if it makes sense for your organization to be on a multitude of platforms, Medium.com recommends that companies start with one or two platforms and fully develop them before adding more. Before creating a company account on any platform, ask yourself if your target audience is on this platform and if you can create engaging content. If you believe your company should have a presence on a platform but don't think you easily produce content for it, consider hiring a marketing agency to assist with content creation.
What to Post
Lastly, the type of content your business posts matters as much as how often you post. If you aren't posting engaging and creative content, you aren't reaping the full benefits of social media. HubSpot provides a great list of the most popular and engaging types of content your company should utilize on its platforms. Short-form video is by far the most popular. TikTok, Instagram Reels, and YouTube Shorts dominate when it comes to user engagement. Other kinds of content that are garnering high engagement are:
Live chatrooms (ex. Facebook Live, Instagram Live, LinkedIn Live, etc.) – these give users the experience of directly speaking with a brand/company in real-time
User-generated content – customers share photos of them using your product/service that you repost to your profile
Shoppable content –showcases items that can be purchased directly from your social media profile
Content that represents your company's values
Social media is a powerful marketing tool for organizations; however, harnessing that power properly is where many businesses fall short. Posting habits, engaging content, utilizing the correct platforms, and having an active presence all play a role in maximizing the power of social media for your business. With social media's landscape constantly evolving, don't let your business' efforts wane by not modifying and elevating your strategy and not staying up to date with current trends. We hope you were able to glean some helpful information from the first entry in this new series. Be sure to keep an eye out for our next one.
Have a social media question? Email one of our experts!
Allyson Harvey – aharvey@sacommunications.com
Jordan Vansiclen – jvansiclen@sacommunications.com