Quick thoughts on the Google Fiber announcement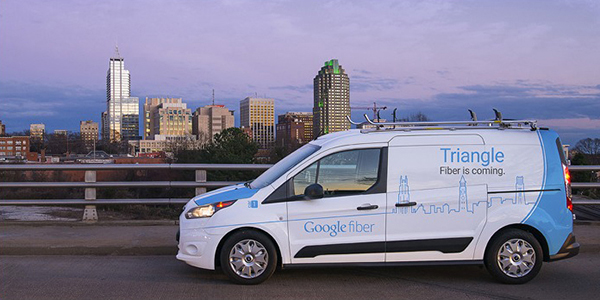 Tuesdays' announcement that Google would be bringing its Google Fiber fiber-optic network to the Triangle and Charlotte regions was met with much fanfare. In addition to providing Internet speeds 100 times faster than broadband, this development will bring jobs (somebody has to install all that fiber), increase regional-perception cachet, raise productivity, and add about $1.4 billion GDP to each community selected.
From a PR perspective, here are a few thoughts on what Google did right in the coordination and execution of the announcement.
Google created buzz by sending out invitations to local elected officials and journalists. Tech reporters and bloggers correctly speculated that the announcement would be about Google Fiber. Did Google confirm this through coordinated news leaks? We don't know for sure, but they did not deny that the event was a Google Fiber announcement.
Google included the governor and local mayors in its announcement, providing visual affirmation that this was a big deal that would affect the Triangle area and the state.
Right off the bat, Director of Fiber Business Operations Michael Slinger proclaimed, "We are bringing Google Fiber to the Triangle!" He didn't tease or unnecessarily prolong the announcement "American Idol"-style.
Immediately after the pronouncement, an assistant removed a covering from the podium to unveil a Google Fiber logo. Good visual.
Slinger referenced how residents of other Google Fiber cities (Kansas City, Provo and Austin) are benefitting from this high-speed service.
He also included a local reference about how this development will allow residents to stream ACC basketball games on EPSN without any buffering. Nice touch.
Okay, along with the good has to come some constructive criticism as well.
While most of the other men onstage (mainly, politicians) wore neckties, Slinger seemed oddly casual with his open-collared look.
Slinger's delivery lacked energy. Too often, it seemed he was just reading the text in front of him. Perhaps he would benefit from some good coaching.
After the assistant removed the podium cover, the microphone was not centered, thus hindering voice amplification.

Overall, kudos to Google for staging this tremendously successful event.