Meet the media: Rebecca Fiorentino
Welcome to our new Meet the Media series. Every month or two we will feature a different member of the local media.
Rebecca Fiorentino is a Sports Reporter/Producer/Editor & Assistant Director of Blue Devil Network.

How did you find yourself as a sports reporter?
My mom loves to tell the story of when I was a little girl and how I dreamed of being Oprah when I grew up. We laugh at it now, but I knew I was destined to be in front of the camera. I am the oldest of four children and my dad enjoyed videotaping every family event, so of course, I was the "host" of all these videos, such as a new sibling, new house, holidays, etc. As far as sports, I've been a "tomboy" since I can remember. I sometimes wonder if my dad wished his firstborn was a boy because of the soccer balls and baseball gloves he used to buy me as gifts before he had two boys.
I believe sports are so unique; the power a sports team has and how it brings a community together is astonishing. The fact that there can be so many sad occurrences in the world, and no, we're not curing cancer, but we can certainly lift patients' spirits up by turning the game on their TV or visiting them in the hospital. That is what I think makes sports so spectacular, and that is what makes me inspired to share those sports stories.
Which of your stories are you most proud of?
This one is tough. I am honored to work at Duke University and be surrounded by so many incredible student-athletes. Each athlete has a unique story of their own. If I have to pick one, it's a heartbreaking, yet beautiful story that really hit home with me and impacted my personal life in such a positive way.
"Grateful" is about a women's Duke soccer player who had nine knee surgeries before she was 19-years-old. Doctors told her she could no longer play the game she loved. However, she decided she was going to leave her mark at Duke by starting a program where student-athletes came to visit children at the hospital every Wednesday.
How are your needs different from other mediums?
We operate as our own television station, a broadcast company, marketing, and entertainment agency, and social media content agency. We create everything you see on the video boards during sporting events at Duke or any video content on our website or social media platforms. We produce a live television broadcast from our control rooms that can be seen on ESPN3 and ACC Network Extra. The goal is to be ready for the ACC Network. We have three control rooms to broadcast events on Duke's campus and a studio where we can do live hits from.
I am a reporter, producer, editor and social media content manager. I go out and find stories on our student-athletes just like a television station. I am a sideline reporter on ESPN3 and ACC Network Extra and I manage content that is produced on social media platforms. I also serve as an in-game host during our home football games. Our audience is not only fans but recruits as well, so that may be a pretty big difference from other mediums.
What is your favorite thing about your job?
I mean I get to work in sports for a living… that's pretty neat. But my favorite part is that our business is always evolving and I'm able to grow in ways I never knew I could. Every year it's changing, and there is so much to learn on the digital side with social media and marketing, on the live side with reporting a televised game, and on the storytelling side with mini-documentaries and features.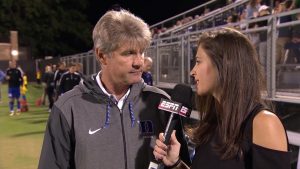 What is your interview style?
I like whoever I'm interviewing to be comfortable because if they're comfortable with you asking questions, you're more likely to get a better answer out of them, and they'll be open to telling you more. Also, not everyone loves to have a camera shoved in their face, so the more comfortable you can make them the less likely they're going to realize there's a camera there and you're just having a casual conversation with them.
What do you look for in a story?
What audience is this going to impact? Who is going to be interested in this?
However, I do all types of stories: game previews and recaps, features, and profiles or get-to-know-you type stories.
Who do you most look up to in the journalism industry?
Many people have influenced the way I interview, report, conversate, build confidence in myself, and hold myself accountable. Everyone used to say "Erin Andrews" but really there are hundreds of female reporters now who you can constantly learn from. I love meeting them because each person's style is so different and it's inspiring to see them succeed in this industry.
We all know it's a grind; it's about heart, hustle, and humbleness. No one is perfect, and life is a growing process. I don't want to be the next Erin Andrews, I want to be the next Rebecca Fiorentino… (basically someone with a much harder last name to pronounce! Sounds like a good dinner conversation on who can say it correctly.)
What is a day like at your job?
Every day is different, which is why I love my job so much. Some days I could be sitting at my desk editing a video, while others I could be shooting football or basketball carrying a camera around, or helping set up our studio to co-host our football show or do an on-camera interview with a student-athlete. Plus, meetings: content meetings, idea-generating meetings, production meetings! On days where we have games, I must be prepared and research the teams so I know which types of questions to ask and how to do the preview or recap of the game.
If I am not reporting, I am…
Working out, shopping or shooting and editing wedding videos (my new-found passion). It translates well from sports because you need to find artsy shots and tell the story. I'm just not interviewing or reporting. I also spend time with my family and friends, who I have to thank for supporting me!
Describe the craziest or most fun story you've written.
I once learned how to salsa dance from an offensive lineman… how often do you hear stories about that? And yes, we related it to football – you have to have quick feet and work as a team to make a dance look graceful or you'll break apart. As an O-line unit, you have to do the same to get the job done.
Tell us a little about yourself (family, interests, favorites, background, etc.)
I am the oldest of four children and we are all about two years apart. I was born in Florida before moving to Apex where I graduated from Apex High School. I played soccer and ran cross country. I graduated from NC State University with a degree in Communication and Spanish. I studied abroad in Peru and am going back to Peru this summer! I like to run and just recently ran a half marathon with my sister.
When I'm not working at Duke, I work behind-the-scenes with the television broadcast crew of the Carolina Hurricanes as a stage manager. I love hockey and have been attending games since they relocated to Raleigh.
Finish this sentence: People would be surprised to know that I….
I love playing the piano. It's almost a stress reliever for me. I can just sit down and play music and forget about things that are happening in my life. Teaching piano was one of my first jobs. I used to teach students every week.