Grammatically correct song titles
As professional communicators, we endeavor to get the right messages to the right audiences in the best manner possible. That can often mean switching between more formal language used in press releases, presentations, white papers and speeches, to informal language used in advertising and social media.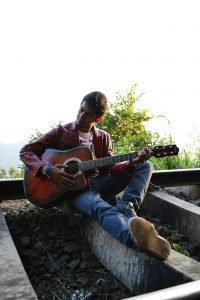 While we certainly adhere to the Associated Press Stylebook for most of our formal communications, we recognize that grammar guidelines are more relaxed in other instances to more closely resemble how people talk.
Imagine, if you will, that all song titles had to be grammatically correct. While that would certainly appease grammar purists, it runs the risk of diminishing the artists' expression and authenticity.
Just for fun, I came up with a list of grammatically correct song titles. Take a look and see if you don't agree that something is lost in the translation, especially if you try to sing these out loud (warning: do so at your own risk).
Around Here – Counting Crows
Baby, I Want You – Bread
Baby Has Back – Sir Mix A Lot
Come On, Feel the Noise – Quiet Riot
Don't Come Around Here Any More – Tom Petty and the Heartbreakers
Flagpole Sitter – Harvey Danger
Give Me Some Loving – Spencer Davis Group
Give Me Three Steps – Lynyrd Skynyrd
(I Can't Get Any) Satisfaction – Rolling Stones, and Otis Redding
He Isn't Heavy, He's My Brother – The Hollies
Holler Back Girl – Gwen Stefanie
Hot in Here – Nelly
I'm Going to Be (500 Miles) – The Proclaimers
I'm Not Too Proud to Beg – The Temptations
In The Club – 50 Cent
Isn't That a Shame? – Fats Domino
Isn't That Peculiar? – Marvin Gaye
It Doesn't Mean a Thing (If It Doesn't Have that Swing) – Duke Ellington
It Isn't Me, Babe – Bob Dylan
I've Got You, Babe – Sonny and Cher
I've Got You (I Feel Good) – James Brown
I Want to Be a Cowboy – Boys Don't Cry
I Want to Be Sedated – The Ramones
I Would Die for You – Prince
More Money, More Problems – Notorious B.I.G.
Nothing Compares to You – Sinead O'Connor, and Prince
Only Want to Be With You – Hootie and the Blowfish
Rock and Roll Isn't Noise Pollution – AC/DC
Rhythm is Going to Get You – Gloria Estefan
Since You've Been Gone – Kelly Clarkson
Thank You (For Letting Me Be Myself Again) – Sly and the Family Stone (Look up the actual song title to see what it really says)
The Future is So Bright, I've Got to Wear Shades – Timbuk 3
There Isn't Any Sunshine – Bill Withers
There Isn't Any Woman (Like the One I Have) – Four Tops
Tough Enough – Fabulous Thunderbirds
Undone – The Guess Who (No, that's not how they spell it)
Want to Be Starting Something – Michael Jackson
We've Got the Beat – The Go Go's
Whom Do You Love? – George Thorogood
You Can't Touch This – MC Hammer
You'll Accompany Me – Bob Seger
You Ought to Know – Alanis Morissette
You Plus Your Hand – Pink
I have to admit, I slightly enjoyed inserting commas and question marks in song titles that needed them. But I'm willing to let it go and just appreciate the music.
So, what grammatically correct song titles can you think of?