Five principles of effective design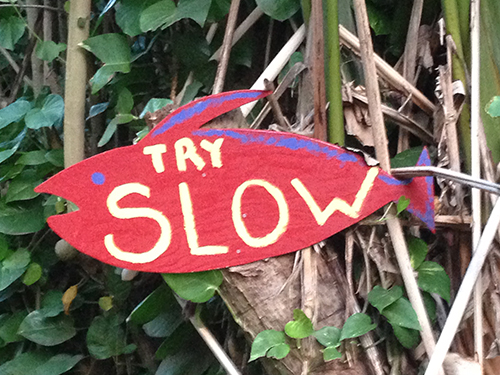 Recently, I was fortunate to spend some time on the island of Kauai, which is the oldest and most northern island of Hawaii. It's a rugged, lush and colorful island. Traveling by Jeep on the Kuhio Highway (which is really a twisty two-lane country road at the top of island), we passed through a small town with about a half-dozen older clapboard homes and one general store. Since the highway is also their main street, they appreciate the tourists slowing down. And that is where I saw this sign:
"TRY SLOW." Perfect!
The sign is not telling you to go slow, it is suggesting that you go slow, or to at least consider the idea of going slow. We've all heard the phrase "power of suggestion." A suggestion gets our minds to start turning and wonder about possibilities — and is typically more effective than a command.
Then there is the bright red paint job, which catches your attention, with the white hand-lettered text which is, of course, easy to read. The fish shape also catches your attention and the blue paint details only add to its charm. A ubiquitous Department of Transportation speed limit sign would probably be mostly ignored. We see them so often we hardly notice them. Or when we do notice them we'll drive five miles over the posted speed limit knowing that our chances of getting ticketed are slim. But a one-of-a-kind, hand-designed TRY SLOW fish is gonna catch your attention.
The TRY SLOW sign perfectly follows five principles of effective design:
Simple: Seven letters, two words and one fish shape equals simple.
Memorable: A bright red fish suggesting that I slow down. Yes, I'll remember that.
Timeless: The message and design would be effective in 1952 — and is effective now, so I would say it is timeless.
Versatile: As a street sign, definitely yes. Bright red with white lettering may also help drivers notice it in the rain or dark, too.
Appropriate: Since this is Hawaii, and about a hundred yards from the beach in an area known for snorkeling, a fish shape makes perfect sense.
It may not be professional, but it's super effective. We passed this sign many times during our stay and it worked every time on my lead foot.
Mahalo.