5 tips for placing guest articles
Among the many tactics employed by PR practitioners – press releases, press conferences, media pitches, etc. – perhaps the most underutilized is guest articles. Not to be confused with letters to the editor or op/eds (both effective tools in their own right), guest articles can increase your organization's visibility among select audiences and help position you as thought leaders within your industry.
As professional communicators, S&A's sta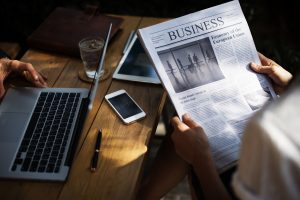 ff members have ghostwritten articles and blog posts for such media properties as Entrepreneur.com, Bloomberg, InvestmentNews, Triangle Business Journal, WRAL TechWire, Auto Remarketing, Residential Systems, Dealer magazine, Parcel magazine, MAIL magazine, OutputLinks and more.
Additionally, we have successfully placed our own guest articles in outlets such as Public Relations Tactics, The Strategist, PR Week, Public Relations Society of America's PRSay blog and more.
In developing and placing guest articles, it's important to remember these tips.
1. Do your homework
Make sure the publications you are targeting reach your intended audience and accept contributed articles. If so, read the editorial guidelines to learn appropriate word length and to find out if any other conditions apply (e.g., must submit a headshot, can't include a hyperlink, can't have appeared in any other blog/publication, etc.).
2. Add value
Say something new; don't just regurgitate recent news. Provide some insights or analysis that reflect your knowledge and expertise. Here are a few examples of suitable topics for guest articles:
• Findings from original research or surveys
• Practical advice or tips
• Predictions for the coming year
• An impactful event or trend that readers may not be aware of
• History of an industry or product
• Legislative or regulatory update
3. Don't be self-promotional
Editors can smell an advertorial a mile away and will be happy to charge you to run it as paid content. It's okay to reference actual industry issues, experiences and anecdotes but don't turn your article into a commercial for your company.
4. Offer exclusivity
Upon seeing a guest article we placed for them in a trade publication, one of our clients asked "Where else can we get this published?" When pitching a guest article, offer exclusivity to the publisher, and let them know you will shop the article around if they pass on it. It's bad form to offer it to multiple editors simultaneously, or to continue pitching it after it's been published. In some instances, it's okay to submit an already published article to another outlet that is not a direct competitor, as long as you include text in the vein of "A version of this article previously appeared in [Title]."
5. Present a genuine voice
I've ghostwritten articles for individuals ranging from a CEO with Ph.D. to a senior VP of sales who is a former used-car dealer. Each has a distinct voice, and it would be disingenuous to craft written communications that don't accurately reflect their vocabulary and expressions. Share drafts with them, make appropriate edits as necessary, and secure their approval before pitching to editors.
After you have successfully placed a guest article, follow up with the editor to thank them and express your willingness to contribute more articles in the future. That will help you develop good relationships with the media and position yourself as a reliable resource for them.