case study: sunrock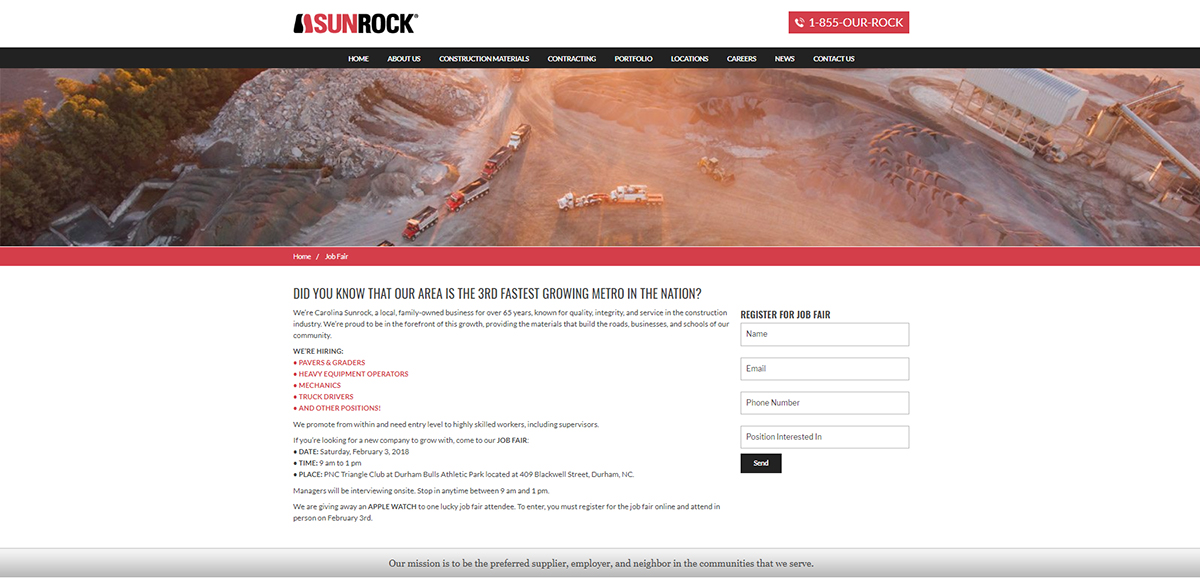 Services
Public Relations
Industry
construction
situation
Carolina Sunrock is a leading privately-owned construction materials supplier that produces aggregates, recycled aggregates, hot mix asphalt and ready mixed concrete, and is a heavy highway contractor and asphalt paver. Sunrock has struggled in the area of talent acquisition. With 60 open positions for a variety of jobs and an insufficient pipeline, effective recruiting had become a dire need. Due to a lack of skilled labor, Sunrock was losing 10 to 20 percent of its overall business. Sunrock hired S&A Communications to help tackle this challenge and develop and execute a marketing plan designed to recruit qualified employees for Sunrock.
solution
Conducted deep-dive interviews, identified key challenges and target personas, and developed strategic marketing plan to attract potential employees to Carolina Sunrock
Planned and executed three Carolina Sunrock dedicated job fairs
Created advertising and promotional content to describe positions, locations and other key facts designed to influence prospects to apply
Conducted media outreach; developed and distributed press releases and calendar postings
Evaluated and placed multi-media buys to advertise events
Produced and broadcasted radio commercials through multiple stations to strategically reach the specified target audience
Developed landing page to encourage attendees to pre-register
Developed collateral materials to promote the job fair event and open positions to prospective employees through paid advertising and grassroots initiatives
Reviewed and evaluated client and competitor social media channels
Provided customized social media coaching. Conducted educational session with managers and team members on social platforms, demographic statistics, social media overview, positive messaging to influence brand awareness, content examples, and how to monitor social media engagement. Created Carolina Sunrock Facebook page.
(Unique to job fair #3) Created Facebook event page, Facebook ad campaign content creation and graphic design, development and implementation.
Targeted audience based on location, age, interests, field of study, employment status, job tiles, and industry
Implemented a two-week highly targeted Facebook advertising campaign to drive traffic to Facebook event page and job fair landing page.
results
Sunrock's Facebook ads reached 54,000 prospects, generated 559 event responses, 4,685 link clinks and 7,242 post engagements.
Sunrock gained over 200 Facebook followers
Attendance doubled from previous job fairs
Over 130 applicants pre-registered for the job fair on the landing page
S&A Communications received a Hermes Gold Award for social media campaigns for this project
reaction
Not only did S&A help craft Sunrock's brand messaging, but they were quite successful in promoting our event by accessing multiple avenues of communication – including television, radio, local publications, and online marketing. The S&A team were also extremely supportive the day of the job fair and made sure everything ran smoothly. We are proud to announce that we've received resumes from 114 candidates and we were able to already hire 15, with more on the way.