case study: town of cary bond referendum education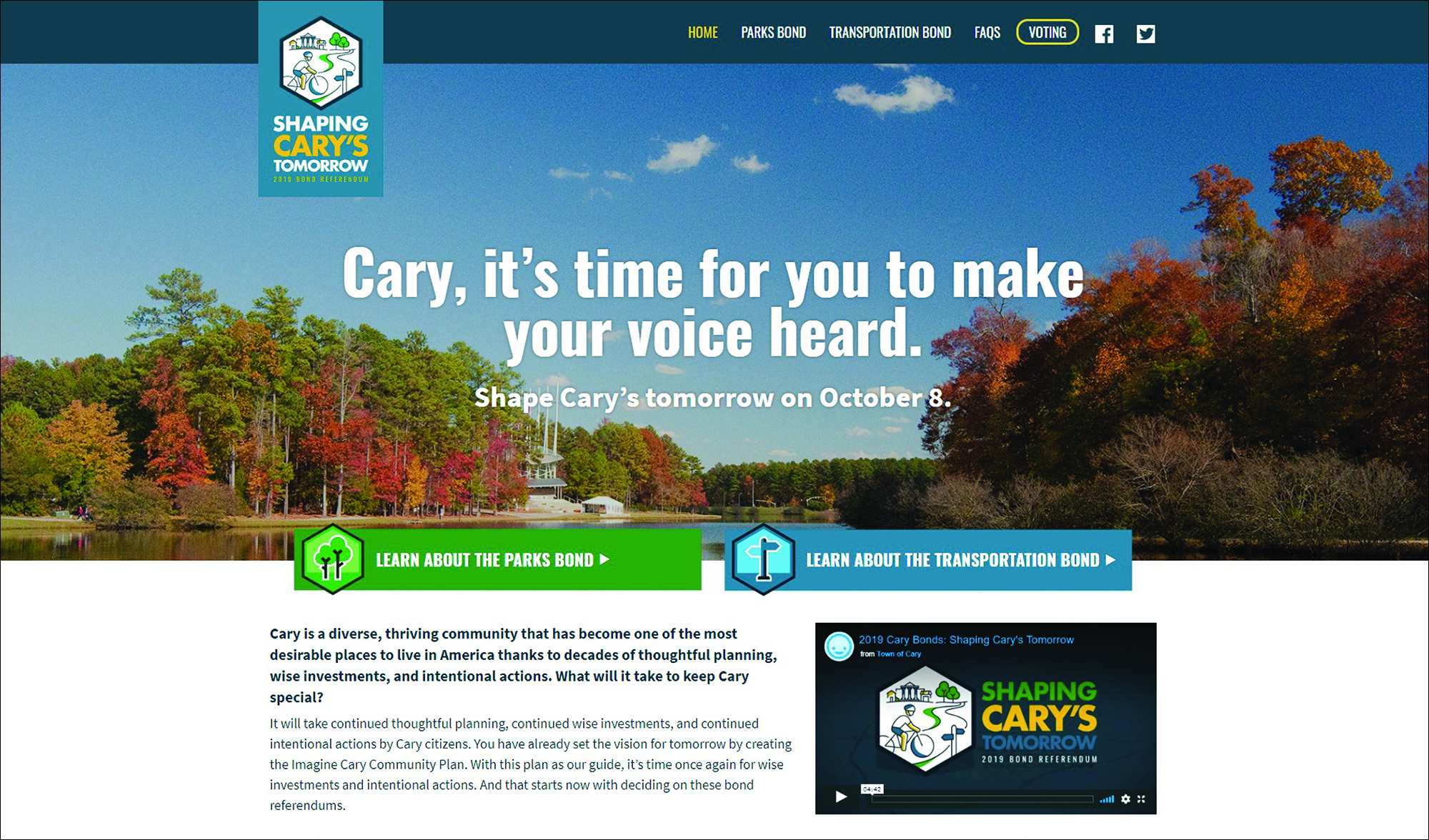 Services
Creative
Digital
Public Relations
Industry
government & municipal
situation
The Cary, North Carolina Town Council voted unanimously to give citizens the opportunity to vote on financing up to $112 million dollars for parks and recreation projects and $113 million dollars for transportation improvement projects that touch all parts of the community.
Two separate general obligation bond initiatives were proposed by the Town Council. The Town of Cary engaged S&A Communications to run a public education campaign to inform registered voters of the bonds and upcoming election.
solution
Developed an engaging, over-arching name for the bond referendum: Shaping Cary's Tomorrow Bonds.
Developed and implemented a multi-media marketing/communications plan that included digital, social media, TV, print, video, PR, community engagement, and direct mail.
Created an informational website that linked to all relevant Town of Cary web pages and documents.
Organized and secured numerous speaking opportunities for Town of Cary representatives at local civic groups and community organizations. Developed talking points for elected officials and Town leaders to use in speeches, blog posts, and media.
Leveraged informational video for Town of Cary TV channel and website, YouTube, and social media channels, including :15 non-skippable ad on YouTube.
Developed targeted cable television schedule: 11-week informational :30 second ads on channels selected based on most watched stations for the demo.
Created Google ads (text, display and video) targeting Cary residents of voting age that have an interest in relevant topics.
Managed digital display ad campaign that targeted voters in Cary zip codes for two months for a total of 500,000+ impressions.
Ran social media advertising campaign on Facebook, Instagram and Twitter.
Created informational materials, press releases, and print ads to be widely distributed and prominently displayed in Parks & Rec Program Guide, Cary Magazine, Cary Living, and Cary Citizen print and digital publications.
Implemented an email marketing strategy to Cary Magazine database of 36,000.
Secured a targeted radio schedule on WRAL FM, running a combination of :30 and :15 spots, wrote radio scripts
results
Cary voters voted overwhelmingly in favor of the $225 million Shaping Cary's Tomorrow general obligation Park & Recreation and Traffic bonds.
Television advertising hit a 4.6 frequency and 375,000+ impressions in the hyper-targeted Wake South zone on 20 networks including local news, ESPN2, MSNBC, Food Network, and CNN and airing on high-profile sporting events.
The digital campaign garnered 333,421 display impressions and 195,821 pre-roll impressions and brought 3,090 visitors to the website.
Social media campaign resulted in 844,423 impressions, 9,960 engagements, and 15,808 clicks from Cary residents.
Radio educational ads hit 3.0 frequency and 582,000 net reach.
Public relations efforts resulted in coverage from WRAL.com, News & Observer, Cary Citizen, Spectrum News, WTVD-TV, and others.