case study: cary magazine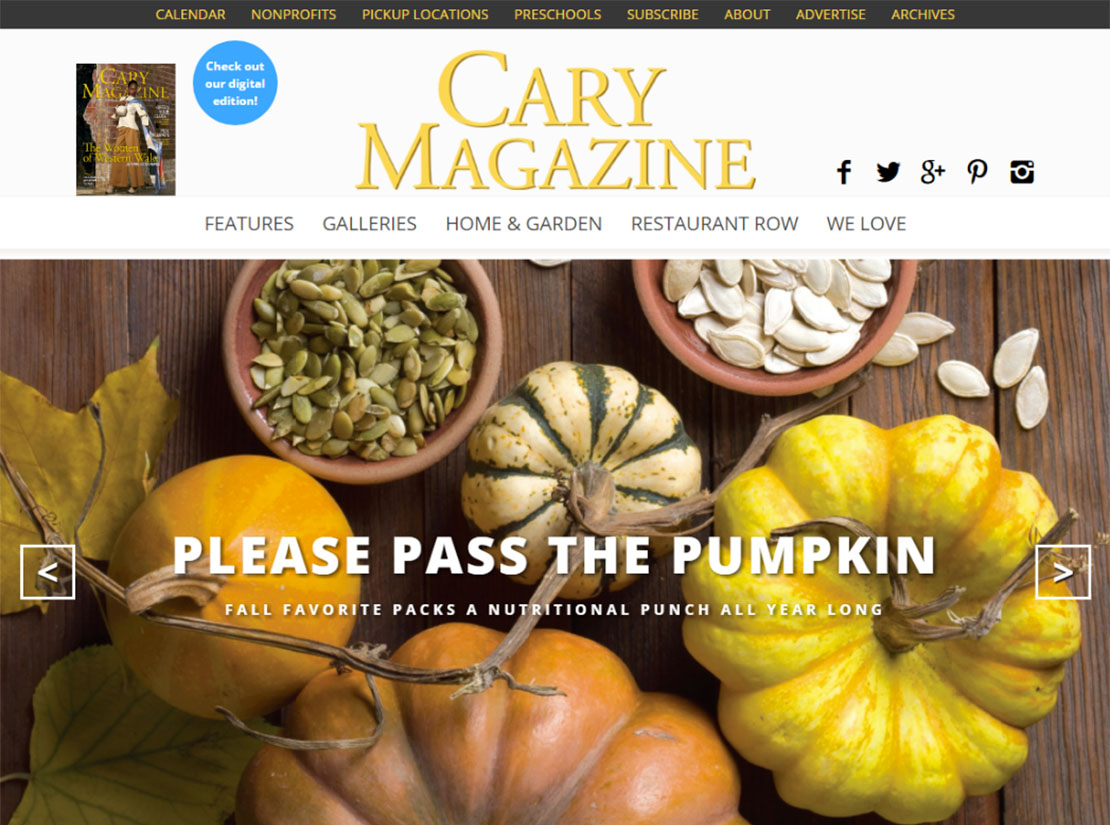 Services
Digital
Industry
publishing
situation
Published by Cherokee Media Group, Cary Magazine is the leading lifestyle publication in Western Wake County, North Carolina, with a readership of more than 64,000. Although the publication had an accompanying website, it was mostly an afterthought and did not provide enough original or engaging content to attract much traffic or revenue. Additionally, the old website was not mobile-friendly and did not serve as a good community resource.
Cherokee Media Group engaged S&A Communications to design a new website that would not only serve as an excellent extension of the Cary Magazine brand, but would also become a revenue generator on its own. This would be part of an awareness-raising campaign that would include PR, social media, email campaigns and magazine advertising.
solution
S&A reviewed the old website and met with the publisher and editors to do a deep dive into the magazine's key target audiences. Then we designed a new site with features that would attract the desirable demographics and meet these objectives for the users:
Increase ease of use on mobile
Highlight photos from staff photographer
Feature original content not found in the magazine
Become a true community resource through listings for events, nonprofits and preschools
The Cary Magazine team had these objectives:
Update the site more frequently using an intuitive interface
Increase reader interactions through comments on stories
Facilitate submissions to various listings
Generate advertising revenue
results
Launched in September 2016, the new website has been an astounding success, producing the following results:
Homepage page views increased 28.5 percent year-over-year
Homepage page views from mobile devices increased 351.2 percent year-over-year
Event listings submitted by readers increased by about 30 percent
30 new nonprofit listings were added (about 40 percent increase)
30 new preschool listings were added (about 40 percent increase)
Revenue grew from zero to $1,000/month
The website won a Bronze Award of Excellence from the InSpire Awards.
reaction
Cary Magazine celebrates all things community — the good life in Western Wake County — with engaging, original content and vivid photography. After sitting down with the S&A team to discuss our goals, they created an all-new website that is now part of our equation for success. The site is a canvas, highlighting the best of what we do. It's also easier for our team to manage, and is designed to be reader-friendly. The results can be seen in improved interactions with our audience overall, and in a significant boost in reader submissions. We love it!