Top 10 ways to stop hating meetings
Meetings have been called a necessary evil, productivity killers and the most hated part of an employee's work week. Are meetings getting a bad rap? We've all sat through unnecessary, unfocused time-killing and soul-crushing meetings. Why not ban them and work only through email? We are pros at volleying virtual communication to get things done but the downside is a reduced amount of in-person communication. Only with face-to-face meetings can we read body language, have fluid conversations, foster true collaboration and build rapport that can elude keyboard communication.
What if we stop hating meetings and improve them?
10 ways to make meetings better
10. Limit the time
Unless you're conducting an annual planning meeting, most meetings should be limited to an hour. Have a firm start and end times. It is respectful and helps people plan and know what to expect.
9. Let the leader lead
One person needs to run the meeting to ensure the key topics are covered, rallies the group to participate (see #6) and starts and ends on time.
8. Be organized
Plan every meeting. What needs to be covered? Organization makes the most of meeting time. Prepare a written agenda and share it with participants in advance. Cover the highest priority topics near the beginning of the meeting.
7. Don't be afraid to cancel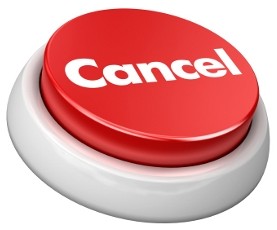 Simply because a meeting is scheduled does not mean it must occur no matter what. Perhaps there are no real updates since the last meeting. Undoubtedly, client needs and deadlines trump a rigid meeting adherence schedule.
6. Encourage participation
Part of the leader's role is to encourage participation. Getting people engaged, sharing feedback and ideas and asking questions fosters collaboration and a sense of belonging and ownership.
5. Big picture
Take a few moments to share big picture strategy and general company happenings with the group. People appreciate being informed. It makes them more engaged with the company and feel like their role is important to its overall success.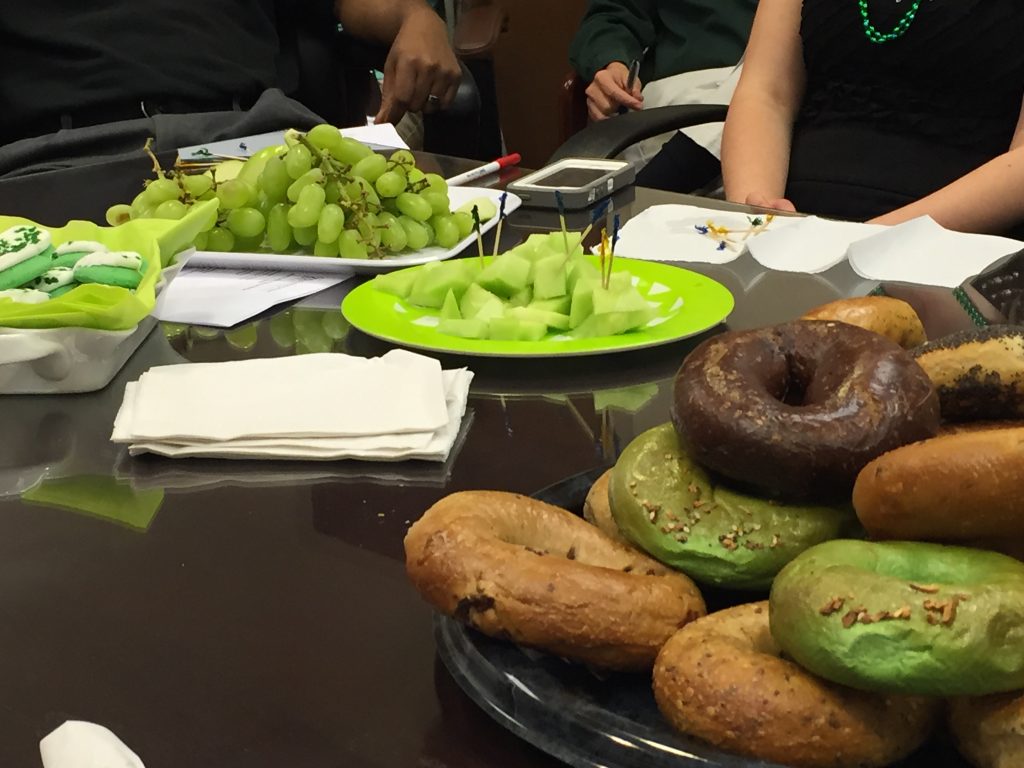 4. Serve food 
It's amazing what food can do: Snacks just make people smile. Have fun with food your choices. Include seasonal items, like the green food we served during an S&A staff meeting on St. Patrick's Day (left). Healthy options or fun candy have also been big hits here. There are studies showing the majority of employees feel that having snacks in meetings make them feel valued and appreciated. Want happier employees, feed them.
3. Take action
Conclude the meeting reiterating specific action items and next steps. Who is doing what and by when?
2. Celebrate
Meetings can be a great time for public recognition and reward. There are lots of studies that confirm how important praise is to employees. In fact, public recognition was rated the top motivator for performance, beating out other non cash and financial incentives, according to a McKinsey study. Check out all of these great statistics on employee recognition. Share and celebrate individual performance and company successes.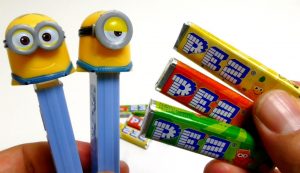 1. Make it fun
From time to time, carve out five or ten minutes at the start or end of a meeting to have a little fun with games. Try two truths and a lie to get to know everyone better or a company or timely trivia quiz. Up the fun quotient with small prizes like nostalgic toys like a Slinky or Silly Puddy. Pez is always a hit.
[blockquote]"Effective meetings are results of deliberate planning and communication. You learn to build a culture where you team understands the rules and you get better results for you and your organization."
Erin Spencer, Vice President of HR Services at RPG Solutions.[/blockquote]
Thanks for reading. Got to go – I have a meeting to plan.